What motivates you to buy something? Most likely, either 1. Necessity or 2. Desirability
At Beefy Marketing, we make sure your consumers aren't driven by one or the other.
They're driven by both.
Business is more than just an exchange of goods and services. It's a beneficial and rewarding relationship between
you and your market – and treating it as anything less than that is a fatal mistake. There are too many competitors out there ready to satisfy your customer's needs, and they have no qualms manipulating price AND convenience in order to do so. The only thing they can't manipulate is the emotional attachment you've already established with your audience. That's what makes you desirable. But how on EARTH do you establish a bond like that?
Having a strong brand is more than designing a pretty website or an eye- catching logo. It's about creating a narrative. It's about identifying your target market's values and incorporating them into their user experience. It's about telling your story and going beyond a simple sale to focus on a longstanding, loyal companionship.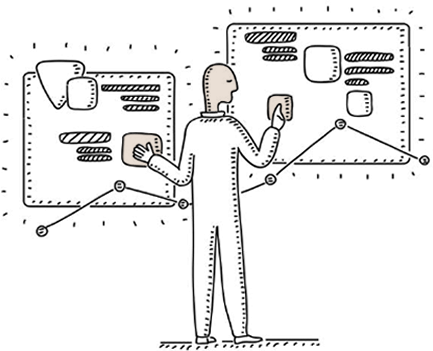 AT THIS POINT, YOU MIGHT FEAR YOU DON'T HAVE A STORY TO TELL.
But your job isn't to produce
your story

That's ours.
Just as good screenwriters work with talented directors to bring their vision to life in Hollywood, you need someone to extract your mission and transform it into a relatable and powerful online brand.
Allow us to introduce you to your new directors. (Hi!)
We are your all-encompassing firm for everything branding. Our mission is to highlight the authenticity and
creativity of your business so that you become an essential part of your customer's lives. Before you might have just been a convenient website, but after working with us, you'll be their friend.

CUSTOMER PERSONAS

WEBSITE EVALUATION

COMPREHENSIVE LOGO DESIGN

BRAND COLLATERAL

BRAND GUIDELINES

MARKETING ROADMAP
OK, BUT HOW DOES IT WORK?
Start by Defining Your

Customer Personas.
We target those that are craving exactly what you offer and who will convert into a captivated base ready to support your every move. From there, we create a professional logo that embodies your company culture, values, and services. And lastly, we develop your brand narrative and mission so your message is clear, concise, and easily digestible. Your brand will feel so inherently personal to your market that you and your customers will feel you're speaking your own special language.
That bond isn't easily broken.
In fact, it will generate years and years of sales. That's why you need strong branding built to provide lasting business. Beefy Marketing is ready to make that happen.