The Definitive Guide To Branded Podcasts In 2022
Why should you create a Branded Podcast?
So, what is a branded podcast? It's a podcast created by a company (or on behalf of a company) to promote products or services, strengthen the brand narrative, and spread the brand's messaging. These three are just skimming the surface of all the good stuff branded podcasts can do, so let's talk about them in more detail.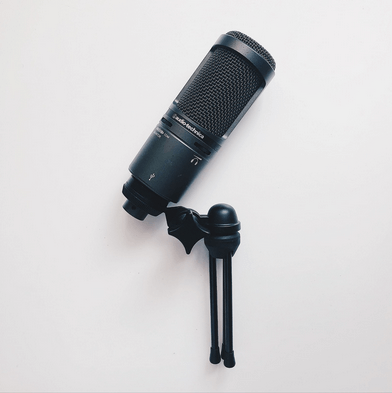 Promote Products or Services
Podcasts are amazing tools for small business owners, but they affect all aspects of a business– including the sales team! By inviting guests and hosting meaningful conversations on the podcast episode, you can build your network up through inviting people onto your podcast, then asking them if any of their colleagues would like to join you for an episode as well. That way, it's not just you talking about your business– it's you and a like-minded expert in the field, talking about things you're passionate about. 
Lead generation through podcasting will quickly snowball into creating new and lasting friendships with other business-people; featuring your clients, partners, and colleagues on the podcast will strengthen connections with them, and motivate them to tell their clients and colleagues about you, too. Through promoting your podcast, they're promoting your business by giving their friends a credible source for what you're good at. 
After figuring out your listener profile (which we'll talk about later in the audience section), invite guests that match your results. For example, if you find out that your audience is primarily men in their mid-thirties who are big into stocks, invite stockholders or sellers that fit that criteria. Emotionally connecting with your audience leads to them becoming loyal listeners, as they feel heard when you bring in guests that align with their interests. 
Strengthen Brand Narrative
Through podcasting your content, you can create more content without reinventing the wheel, so to speak. Got a blog post that you believe showcases some excellent content, but you don't feel like it reached enough people? Turn it into a podcast script! That way, your listeners will get that important information that they might've missed, and anyone who did read the blog post will get the info reiterated to them, emphasizing its importance. Got a good camera and tripod lying around? Film your podcast recording and upload the video! Some listeners will prefer the visual aspect of a video feed, and you can gain new viewers through posting on more platforms.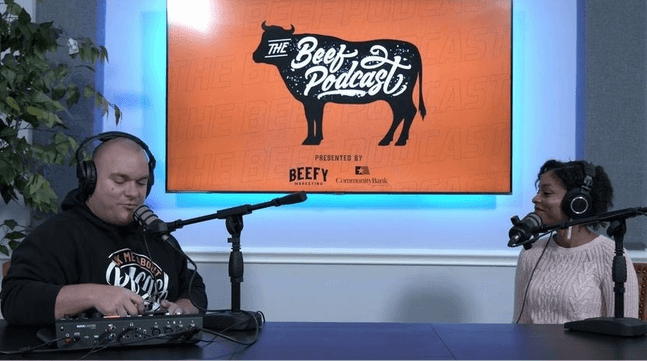 Spread Brand Messaging
Podcasts are built for spreading awareness and increasing your brand's value in the eyes of your customers. Podcasting allows business owners the opportunity to build relationships with potential customers through showing yourself off through your episodes: listeners hear your voice, rather than reading it, and they'll find credibility in hearing you talk confidently about your passions and your business. Listeners will consequently want to learn more about your business, so they'll look up your website, increasing traffic to your site. Win-win!
The one caveat to this perk is that in your awareness-spreading, you need to find a sweet spot between hardcore marketing and putting out engaging content. People won't want to listen to a straight-up advertisement for your episode's duration, so find content that you want to talk about and find ways to weave your promotion into it. One way to do that is by case studies; if you compare your product or service versus other ones in your wheelhouse, you get the chance to prove why yours is the best one out there. Approximately 74% of podcast listeners tune in to podcasts to educate themselves, so make sure you're providing them value, rather than selling it to them.
That value comes for both people listening to learn and people listening for new perspectives in their business. Through your podcast, you can be the spot for your industry's news by promoting and educating your listeners yourself. As the credible voice in your industry, your brand's podcast can climb to top-level status in time with enough loyal listeners– it's all about finding your niche!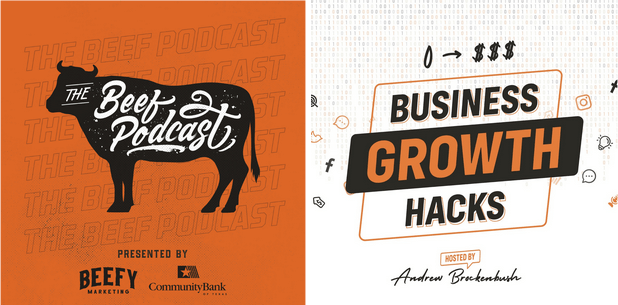 How to come up with a topic for your podcast?
As for what you talk about in your podcast, that's all up to you and what your business is about. Promote your brand's mission, products and services, but don't do just that; discuss topics aligned with those, and then bring up your brand when the time feels right mid-conversation. If you're not sure how to do this (and do it well), check out other brands' podcasts for some inspiration.
For good examples of this sort of segue, check out Beefy's two homebrewed podcasts:
Business Growth Hacks discusses tips to grow and bloom in your business, featuring different topics each episode, like SEO features, web design, social media marketing– which, funnily enough, are services that Beefy itself offers. By promoting these services generally, hosts Andrew and John prove themselves to be credible sources of information when it comes to business booming, and they know so much about them because they provide those services themselves!
The Beef is a little different: Host John (different John from BGH, we promise) interviews small business owners in Tomball and promotes their services and products, rather than Beefy's. However, Beefy still gets a hefty helping of promotion through The Beef, as we promote Beefy's status as a small business as well, which establishes comradery and empathy for the small business struggles. Beefy can also help other small businesses in their marketing needs, so we always talk about our expert services for any small business owners that need a helping hand when it comes to marketing. 
Podcasting can be a powerful marketing tool to promote your brand, if you wield it well. Rather than treating your podcast as an advertisement, treat it as a conversation between yourself and your listeners: nobody would enjoy a conversation if it's just you talking about your business. Talk about topics related to your business, then find fun ways to promote your business during those discussions!
Inspiration can come from many places, but listening to other podcasts is a surefire way to get a good idea of how to execute your own podcast. Look for qualities like length, format, how many likes and dislikes their episodes have (whether they're on YouTube or an audio-based platform), and most importantly, ask yourself what you can do to set yourself apart from your competition. Whether it be audience engagement, episode format, giveaways, content– what can you do to prove that your brand's podcast is unique from the others?
Audience
Building your audience is perhaps the most intimidating part of podcasting. Where do all those people come from? There's a few different ways to find and build your audience, and we're here to tell you about 'em.
Email Lists
A surefire way to know that you're popping up in your listeners' notifications is through email subscription lists. By adding a small, non-intrusive pop-up to your website advertising your upcoming podcast, you can garner interest and potential followers through email newsletters.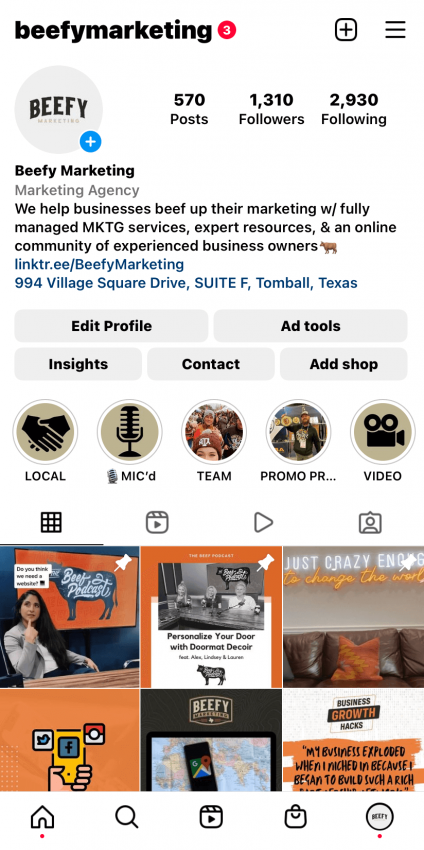 Social Media
No matter which social media platform you use, you can promote the podcast in different ways! Tweets, text posts, TikToks, Instagram stories: there's lots of formats for promotion here. One way that we at Beefy promote our podcasts is Instagram stories, but we use Audiogram to create the stories with clips from our podcast episodes. They're easy to make (fun, too!), and give your audience a sneak peek at your episode without giving too much of the content away at once. 
Listener Profiles
Of course, promoting your podcast to your audience helps them get to know you. But what about getting to know your audience? You can build relatability and loyalty by asking your listeners who they are in a brief survey online. Some key questions to ask in this survey would be things like…
Age

Gender

Location

Industry/Occupation

Interests and hobbies

Lifestyle and social causes
There's many more out there to ask, depending on how much you want to know about your listeners, but these are some basic criteria to keep in mind. By collecting this information, you can learn lots of things about your listeners and your total market: how many listeners fit the criteria that you were hoping for? If you assumed your podcast would reach more middle-class men in their thirties, but it turns out it appeals more to upper-class women in their fifties, you may need to reevaluate your episode content with those ladies in mind!
Materials & Software
So you're ready to start your podcast! It's exciting, it's invigorating, it's… daunting to find all the stuff you need. We have lots of recommendations and questions to ask when it comes to what software, materials, and podcast styles you're looking at, so scroll on to get your story sorted.
First off, there's lots of formats for podcast episodes for what kind of stories you want to tell:
Interview Q&A

Discussion

Multi-story

Documentary

Scripted Narrative
For example, Business Growth Hacks would count as a Discussion podcast, while The Beef would be an Interview Q&A-style podcast. Which format would best fit what you want to express? If you want to tell a fictional story, a scripted narrative would work best; if you'd like to tell your listeners about the latest in kickboxing news, perhaps a documentary format would be better. These are just five of the different formats, but listen to some other podcasts to find out which one works the best for what story you want to tell. 
How long do you want your episodes to be? Podcast episodes can be anywhere from ten minutes to three hours long, so it depends on how much content you want to release at once. Keep in mind that two to five minutes could be taken up by intro songs, outro songs, and sponsorships, so have some extra time set aside in your episode duration for those.
Next up, how often do you want to release episodes? Keep in mind, you'll need time in-between to export the audio, edit the video, and make sure your content is polished before uploading, so give yourself lots of time to prepare your content. 
If you're good at keeping on top of deadlines and pre-recording episodes, weekly releases could work well for your scheduling pattern. If you have a lot of editing work to do each episode or music to record for each one, maybe bi-weekly would be best. There's also monthly episode releases to build hype for each one, and even seasonal releases if you want to release an entire season's worth of content at once! Think about how often you can logistically release content and decide on the schedule that works best for you.
As for actually releasing the episodes themselves, there's a few different distribution platforms to pick from. These aren't the places where the episodes will pop up, like Apple Podcasts and Spotify; distribution platforms are where you schedule your episodes for release, write the titles and episode descriptions, and decide which audio platforms you want your episodes to be released on. Some recommendations of ours for these include:
Of course, for recording a podcast, you need some more physical materials. Straight from Beefy's podcasting studio, here's some recommendations for the best microphones on the market!
There's a few recording softwares out there, but two different ways to get your content onto it: via a SD card with an interface, like the RØDECaster Pro has, or use a DAW (Digital Audio Workstation) like GarageBand, Logic Pro, ProTools, and AdobeAudition. There's always the option of hiring a video editor to edit your content for you– did you know that Beefy can host your podcast recording, edit, and post it for you? All you have to do is record the content you're passionate about, and we'll handle the legwork. 
These are just a few options, but make sure to do your research and find which ones work the best for you and your budget. 
The Launch Plan
So, you're recording episodes, planning guests, hyping up your audience, and you're so excited to start releasing episodes that you just can't stand it– but hold your horses for a second, you need a plan before you run off the rails! You want to avoid what people in the biz have named "Podfade", where after around the seventh episode, podcasters lose motivation and tend to slow down after hitting the ground running. In order to steer clear of that, here's a few ideas on what to do when you launch your podcast.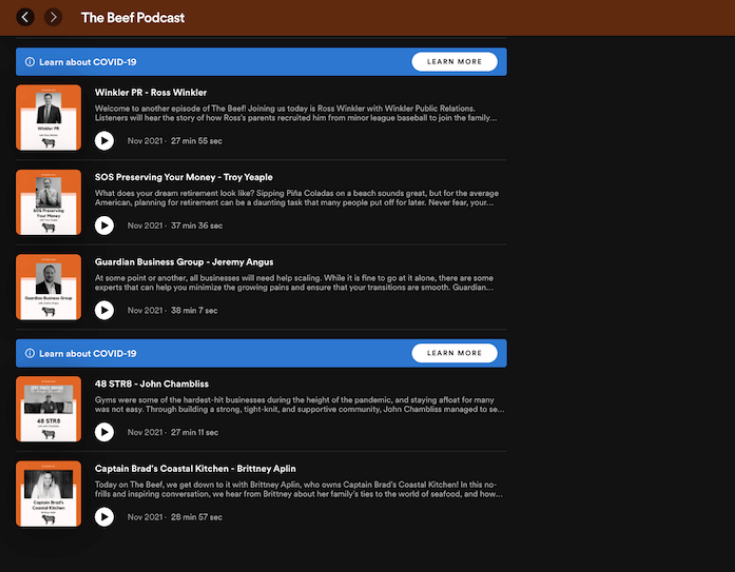 More is More
Lots of podcasts start with more than just one pilot episode– rather, they start with three to five pilot episodes (like The Beef did!), so listeners have lots of new content to binge. That way, too, if one episode doesn't resonate with listeners, you have the ability to win back favor with another episode in the launch collection. Publishing multiple episodes at launch also shows your listeners that you're committed to your podcast, since you already have a few episodes to post, rather than just one. 
Growing an Audience
While dropping the podcast on launch day as a surprise is a power move (that's what we did with Business Growth Hacks!), generating an audience before you release episodes helps your podcast's reputation before it even begins. On your social media platforms, post previews of the episodes you have recorded to show your audience that you're dedicated and prepared for your show; the more previews you show off, the more interest you'll garner in your episodes. Posting graphics will help with that too! One important post you won't want to miss is the "call to action" post: this one should be the biggest one, caption-wise. This is where you tell your audience why you decided to start a podcast, what your show will be about, and other important information to generate interest and excitement in your show. Need an example? Check out the CTA post we wrote for The Beef below.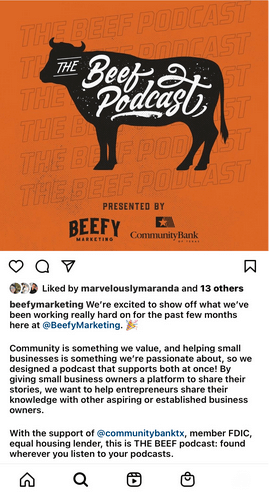 The caption reads: We're excited to show off what we've been working really hard on for the past few months here at @BeefyMarketing. Community is something we value, and helping small business is something we're passionate about, so we designed a podcast that supports both at once! By giving small business owners a platform to share their stories, we want to help entrepreneurs share their knowledge with other aspiring or established business owners. With the support of @communitybanktx, member FDIC, equal housing lender, this is THE BEEF podcast: found wherever you listen to your podcasts. 
In this caption to promote The Beef, we tell our audience our passions, what we're doing to help promote those passions, and why we decided to begin the podcast. We include our sponsor, CommunityBank of Texas, to remain transparent about the help we're receiving from the bank in making our dream podcast a reality. We also announced the release date at the bottom of the post, so people have a day to look forward to for more content!
After posting your first few episodes, you'll start to gather more listeners over time– but there's ways to gather even more when you put in the effort to find them! Through social media posts, promotion on your website, and email newsletters, your listeners can see your dedication to your podcast via your constant posting about it. Everyone likes seeing people talk about their passions, y'know?
You can also promote your podcast via other podcasts, if you're friends with other podcasters! Through episode swaps, both of your podcasts get episodes with guests, and you both get some content to post about. If schedules don't line up for guest spots, record ad spots for each other's episodes to promote your podcast on their show, and vice versa. Double the content, double the episodes, double the hype.
If your podcast guest doesn't have a podcast of their own, you can provide them with a collection of social posts to use on their social media: story posts, podcast links, episode art, audiograms, samples, etc. That way, with the content on their social media profiles, it'll reach their audience, who'll share it with their friends, who could send it to their friends… you see where we're going here, right?
Discoverability
Now, nobody becomes famous overnight… unless you're very, very lucky. With podcasts, it's even harder. Thankfully, there's lots of ways to increase your visibility to listeners and get at least a little famous.
One super simple way is to include show notes with your episodes– a brief description of the episode, key points it covers, guests, and some quotes to intrigue your listeners and make them want to hear the rest. For a good example, here's the show notes from an episode of Business Growth Hacks, "Scaling Your Business with Guest Richie McPeak".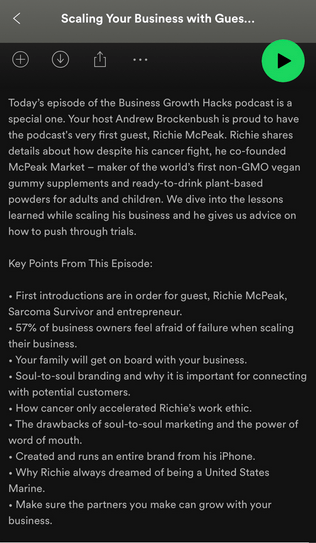 For the show notes on this episode, we made sure to highlight Business Growth Hacks' first guest, Richie McPeak, and his entrepreneurial story. We included lots of key points to garner interest for the episode's content, and further down on the page there are links to Richie's website, our website, and both of our social media platforms. Show notes are super convenient for people who stumble across your podcast and don't have time to listen to the full episode then and there– they can read the show notes and decide whether they'd like to hear more, then save the episode for later when they get the chance to listen to it. Show notes are also good for more visual learners, so they can get an idea of what they need to pay attention to. (Video content is good for visual learners, too!). 
On a more technical note, show notes improve your SEO, or your Search Engine Optimization. This means your probability of showing up on the first page of your preferred search engine when people look up certain keywords. For example, if someone were to look up "business growth hacks", we'd show up pretty early in the list of results, but thanks to key words in our show notes like "business", "podcast", "entrepreneur", "marketing", and "brand", we pop up even earlier! Plus, by referencing our guest a few times through the notes, if people search for him, then we show up in the results as well. Win-win!
Another way to increase discoverability and visibility in this podcast-loving world is through unique episode titles and descriptions. We'd recommend staying under sixty characters, so your title isn't too long, and including a "hook" to get people's attention. Stay light on information– you don't want to spoil the entire episode in your title!– and if you have a guest on the episode, make sure to put their name in there too. For example, our episode above is titled, "Scaling Your Business with Guest Richie McPeak". Right away we have what the episode is about, our guest's name, and something interesting to get more information on– like, what is scaling your business all about? Guess you'll have to listen to the episode to find out!


Episode art is important as well; at a glance, this is the first impression your listeners get of what your podcast is about. Vibrant, clear graphics and high-quality pictures will help you stand out in the crowd. Even if graphic design isn't your passion, there's lots of easily modified layouts on websites like Canva where you can drag and drop your photos and graphics in without messing up the formatting. (And really, as long as you don't use too much Comic Sans, we think you'll be fine.)
Transcribing your episodes' content is also a good way to increase your discoverability; with more text content, you have more SEO keywords to take advantage of. Transcribing also makes your episodes more accessible to people who can't listen to the audio itself. More accessibility opens up your content for even more people, so keep transcription in mind for all of your audio/video content.
There's lots of ways to make your content stand out, so give a few different ways a go and see what sticks! Your audience will be sure to let you know. Speaking of…
Feedback
After all, how can you grow without knowing what your audience is looking for in your podcast? There's a few different ways to gauge audience appreciation, so here's a few ways to try. 
Audience surveys
You can create a short survey on Google Forms and send it to your audience via email lists, social media, or the podcast show notes. Ask them questions like, "What's your favorite episode so far?", "Was there a guest you really enjoyed?", "Do you have any recommendations for guests or topics to cover?", and "Would you share our podcast with your friends?". Asking your audience for their opinions makes them feel appreciated for listening and clicking through your survey, and their loyalty to you and your brand will increase as a result.
Platform reviews
Some podcasting platforms offer review systems for listeners to leave starred reviews along with the podcast itself. This is an easy way to get more general feedback from your audience, especially since they can click how many stars to review you with and get on with their day.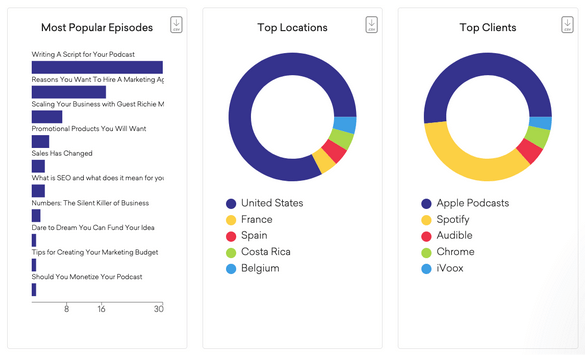 Social media analytics
Social media can get you some interesting statistics on where/how your audience finds your podcast. I know there's some software that helps do that but I don't know what it is. By utilizing this, you get the chance to analyze where more of your audience is coming from– and prioritize your social media work to that platform over others.
Download statistics
Similar to your social media analytics, download statistics on your podcast distribution platform can help you find which of your episodes do better than others. Most distribution platforms allow you to see each episode's individual statistics, like how many listens, downloads, and shares each one gets. It's a good way to see which episodes perform better over others, so you can keep that episode's content in mind whenever you record more.
Calls to action
For points 1 and 2, getting your audience to fill out your survey or leave you a review is as simple as asking! Tell your audience at the end of your episodes to follow the link in your bio to the survey, leave you a review on your podcast platform, leave a like on your YouTube video… people will quite often take you up on it if you simply ask them to.
One last way to get feedback is to do constructive criticism of your own. By auditing your own content and making sure your episodes are still top-notch, you can rest assured that you're putting out your best each week. Compliments from your audience are always nice, but confidence in yourself and your work is the best way to know that you're putting out high-quality content. It may feel weird at first, but listen to your own episodes; that way you know first-hand exactly what your content looks like, sounds like, and flows like. When you're in the recording seat, you don't know how your episode will sound after it's been edited and put together unless you listen to it yourself, after all. While you're listening to it, ask yourself what makes your podcast stand out from the others in your field? Why do you think your podcast is the one to listen to? And perhaps, most importantly: would you listen to your own podcast?
Our last tidbit of advice on podcasts: Be patient. Creating work like this takes a lot of time and effort, but if you put in both, you're sure to get some good feedback! Podcasts are the way of the future. If you have a podcast, let us know– maybe we can do some episode swaps together! 
That's all we've got on making your own business podcast, and we hope we were helpful! If you have any advice you think we missed, be sure to let us know– and while you're here, why not check out our podcasts, too? We think we've done a good job with them, if we do say so ourselves.